Dean & DeLuca, a luxury food store based in New York City, has been a Culinary Software Services customer since 1999. Dean & DeLuca's Executive Chef, Rick Michener, runs the commissary/catering operation producing high quality dishes to be sold in the store. Rick is located in the Dean & DeLuca headquarters in New York City. From there he monitors other stores around the nation.
---
Chef Michener finds that the yield and recipe costing functions of ChefTec are the most beneficial to his operation. When creating a new recipe it is essential to accurately cost it out including yield, labor and waste.
"It is very important for chefs to take 'yield' into account when costing a recipe: the cooked weight of an ingredient used in a recipe will not reflect the raw weight paid for an ingredient. Without taking this into account it leads to an inaccurate recipe cost, which leads to lost profits!," said Michener. "With ChefTec I can quickly and easily get accurate recipe costs using the correct yield."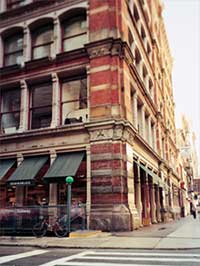 Supplying the 30,000 sq. ft. store with prepared food is a busy job and Chef Michener appreciates the simplicity of ChefTec to keep all of his costs accurate.
For more information on Dean & DeLuca visit their website at www.deananddeluca.com, or if you are in New York stop by their market at 560 Broadway.
---
Culinary Software Services, Inc. • 1900 Folsom Street • Suite 210 • Boulder, CO 80302 USA • (303) 447-3334
Copyright © 1995-2012 by Culinary Software Services, Inc. All rights reserved.