The Rosenthal Group, owner of Trattoria No. 10 and Sopraffina's Marketcafes, has been a valued customer of CSS since 1993. Located in Chicago both concepts are examples of fine Italian cuisine, be it the informal Café or more upscale, full service restaurant Trattoria No. 10.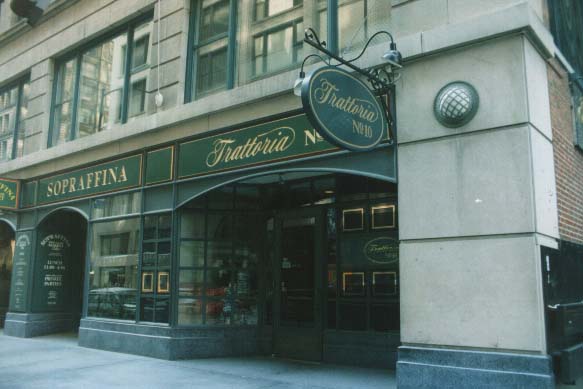 Known as one of Chicago's best lunch spots Trattoria No. 10 has a reputation of good food with quick and friendly service. Both CSS President, Brian Bennett, and General Manager, Bev Daniels, have eaten there and rave about the freshness of the dishes and intimacy of the restaurant iteself.
Sopraffina's is known throughout Chicago as a top spot for a quick bite. The first location was opened in 1993 adjacent to Trattoria No. 10, but it has been so successful three more have opened in the Loop. Homemade items distinguish Sopraffina's from other quick lunch spots.
"We don't have a lot of inventory on hand," said Jeff Belaul, Controller. "All our food items are made fresh each day. We do all our own pasta, soups, sauces and dressings and have daily deliveries of fresh produce."
Part of Sopraffina's charm is that patrons eating in get served on china, and fine art decorates the walls (not typical of most quick serve locations). Dan Rosenthal, President, wants customers to feel as if they are in a cafe in Italy, and escape the hussle and bussle of the city.
| | |
| --- | --- |
| | Watercolor by Elisabetta Franchini on her vision of what a Sopraffina's would look like if discovered in a small Italian village. |
Starting with Escoffier, The Rosenthal Group has been costing out their recipes using CSS products. They are currently using ChefTec and value the ease of use that ChefTec affords them to do recipe and menu costing.
Chicago Locations Include
Trattoria No. 10
Sopraffina's Marketcaffes
10 N. Dearborn
10 N. Dearborn
Chicago, IL
Chicago, IL
(312) 984-1718
(312) 984-0044
AT&T Building
222 W. Adams St. #120
Chicago, IL
(312) 726-4800
Amoco Building
200 E. Randolph St.
Chicago, IL
(312) 729-9200
---
Culinary Software Services, Inc. • 1900 Folsom Street • Suite 210 • Boulder, CO 80302 USA • (303) 447-3334
Copyright © 1995-2003 by Culinary Software Services, Inc. All rights reserved.