Next time you are in St. Louis be sure to plan for dinner at one of the city's true dining treats. Grenache is one of those delightful experiences when you come away fully satisfied of eating a gourmet meal, drinking good wine and still have money in your wallet. Owned by The Wine and Cheese Store, which has 3 locations around St. Louis, Grenache has been given rave reviews since its opening in 1999. Grenache has been heralded as one of the premier eateries for quality of food at reasonable prices and awards include the Best New Restaurant by St. Louis Post-Dispatch and the Riverfront Times, and the Wine Spectator Award of Excellence two years in a row.
Executive Chef Ramon Cuffie recently started at Grenache after working in France, on the American Orient Express, and at the Intercontinental Hotel, Washington DC. Chef Cuffie has revamped the menu to offer a variety for all diners (vegetarians included). He also creates his own desserts including a lemon tart, chocolate espresso tart and tiramisu (with homemade lady fingers).
Grenache has been a customer of Culinary Software Services since the beginning of 2001.
"Prior to using ChefTec our food costs were too high. Some of the dishes were out of control, but we didn't know it because we weren't costing out each dish," said Paul Hayden, General Manager. "We have cut our food cost by 10% and made changes to the menu to ensure a profit."
Besides costing out recipes Hayden inputs all invoices and inventory. He commented on how they used to do it all with paper and pencil, but it was impossible to track waste. Now, waste is easily accounted for and has been brought to a minimum.
Keep up the good work! Keep those food costs down!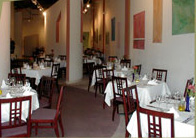 Grenache is located at:
7443 Forsyth Boulevard
Clayton, Missouri
(located next to the old Famous-Barr Building, across from the Ritz-Carlton)
For reservations, please call 314.727.6833



Culinary Software Services, Inc. • 1900 Folsom Street • Suite 210 • Boulder, CO 80302 USA • (303) 447-3334
Copyright © 1995-2003 by Culinary Software Services, Inc. All rights reserved.