The foodservice industry employs over 11 million people, making it the largest employer besides the US government. More and more people are looking to foodservice as their career, and the task of educating and training these individuals is an essential part of the future of the industry. Taking the helm as one of the top private culinary schools in the country is the Western Culinary Institute (WCI) , located in Portland, Oregon. Renowned for its partnership with the world-famous Le Cordon Bleu Culinary Program, the WCI offers a degree in Culinary Arts and a diploma in Hospitality and Restaurant Management. The WCI is the only Le Cordon Bleu school offering the Hospitality and Restaurant Management program, and students can complete the program in 51 weeks instead of 2-4 years which is standard at a college or university.
"If attending a college, students spend their first two years taking general education classes. Our program is designed for students who are focused on a career in the culinary arts. They immediately begin classes related to foodservice," said Jim Aden, Department Chair for the Hospitality and Restaurant Management Program.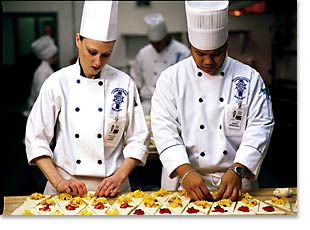 Focusing on training students for real-world experiences, the WCI teaches ChefTec in two of its Hospitality and Restaurant Management courses. With ChefTec, students learn how to run a back office efficiently and cost effectively.
"Only through the use of a software program, like ChefTec, can a foodservice operator get their actual costs within .5% of their theoretical costs," said Barry Brown, instructor for Restaurant Management, Systems and Controls. "Teaching students the importance of using a back office software program could mean the difference between the success or failure of their operation."
Running a profitable operation takes countless hours of organization, accounting, management and, of course, cuisine. Many restaurant failures are due to the operator's lack of knowledge with the first three criteria. The WCI offers not only hands on experience with the culinary side, but also accounting and operations. With ChefTec, students learn how to gather vendor bids, create orders, enter invoices, cost out recipes, and track inventory. According to Brown, ChefTec is a natural choice for use in the classroom as it is user friendly, economical and helps students see the big picture of owning a restaurant.
For more information about the Western Culinary Institute please call (800) 666-0312. The school is located at:

1201 SW 12th Avenue, Suite 100
Portland, OR 97201
fax: (503) 223-0126
web: www.westernculinary.com



Culinary Software Services, Inc. • 1900 Folsom Street • Suite 210 • Boulder, CO 80302 USA • (303) 447-3334
Copyright © 1995-2003 by Culinary Software Services, Inc. All rights reserved.