The Art Institute of New York City (formerly called the New York Restaurant School) is a part of the system of twenty-four schools throughout the United States which focuses on preparing students for careers in the creative and culinary arts.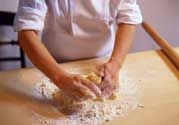 One of eleven Art Institutes featuring a culinary arts program, the Art Institute of New York City has been educating and training students since 1980. With a student body of 1,242 the courses include an Associate of Occupational Studies degree program in Culinary Arts and Restaurant Management and certificate programs in Culinary Arts, Pastry Arts, and Restaurant Management.
Being located in New York City has many benefits; one of them being the extensive ties that the Art Institute has to the hospitality industry in the city. Many foodservice operations around the city take part in the schools externship program, so students get first hand job experience in one of the nation's largest restaurant towns. Additional support from the city comes from various functions which call on student volunteers.

Students really like volunteering at local events. Events range from City Parks functions to the Black Culinary Alliance fundraiser. It gives them a taste of what a real event involves, and exposes them to the New York City community,
said Kenneth Goldberg, Academic Department Director of The Art Institute of New York City.
Recently The Art Institute of New York City was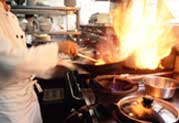 selected to be on the cover of latest edition of Professional Cooking (Wiley). Professional Cooking is in its 5th edition and it is standard curriculum in most culinary schools. Six Art Institute students were asked to act as models for a day as professional photographers captured their culinary skills in action.
The Art Institute of New York City has been using ChefTec since 2000. Goldberg has incorporated it into the technology curriculum and spends three out of eleven sessions in the Basic Computing course using ChefTec. Showing students how to write recipes, scale items, enter invoices and track purchasing and food costs has given them a greater understanding of restaurant management.

We are teaching the next generation of chefs and it is important that they know there is foodservice software that will help ease the frustrations of keeping track of invoices, ordering, creating recipes and scaling events,
said Goldberg...

"It has been fascinating for me to learn how to write curriculum for ChefTec. I like to anticipate any questions a student might have, so I have had to learn the program from the inside out. The response has been great! Students like to see that there is software written specifically for the culinary industry, and that they are not limited to simply using Word or Excel."
Goldberg practices what he preaches and has implemented ChefTec in the Art Institute's own back office operation. In using the program for recipe maintenance and inventory management the school sets a great example to its students in showing how technology can be used to full effect in this creative and challenging industry.
The Art Institute of New York City
75 Varick Street, 16th Floor
New York, NY 10013-1917
800-654-2433
212-226-5500
www.nyrs.artinstitutes.edu