ChefTec Mobile Solutions® Software and Hardware
for Tablet and Handheld Computers
ChefTec Mobile Solutions can be used with CorTec and ChefTec. Each package includes either a HP Slate Tablet with add-on bar code scanner or Janam XP30 Handheld with built-in scanner and the award-winning ChefTec Mobile Solutions modular software.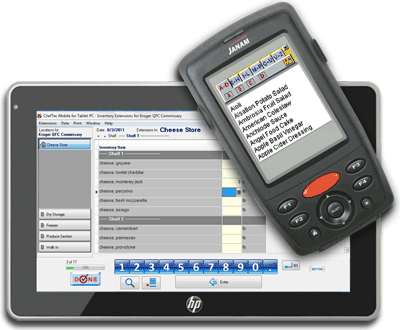 Pricing depends on which handheld you purchase and how many Mobile modules you purchase. The Mobile modules are:
Physical Inventory Taking (PIT) - Every month it's the same story: end of the month inventory takes up too much of your time. If you are doing inventory the old fashioned way you are spending hours with pencil, paper and calculator, trying to keep on top of your costs.

If you're already using ChefTec, you're on the right track with the most powerful, easiest-to-use foodservice software on the market. With ChefTec you're able to organize your inventory in shelf order, making it easy to do the physical counts. But even if you are enjoying the power and convenience of ChefTec, when it comes to taking inventory you want an easier way.

Do Your Physical Inventory Without Paper and Pencil!

The Physical Inventory Taking module will give you an easier, faster, and more efficient way to enter physical inventory counts. Rather than having to print out worksheets, write your inventory counts, and then manually enter the data into ChefTec, the customized Mobile Solutions application allows you to enter your inventory counts directly into the Tablet or Janam. With the Tablet using a WiFi connection (required) your counts are entered into ChefTec real-time. With the Janam you upload the physical counts into ChefTec on the desktop by simply clicking a button on the included cable.

Ordering (ORD) (only available for Janam) - Organize orders on the fly! Enter orders into the Janam Handheld, create a master order, regardless of vendor. Then simply upload the information into your desktop ChefTec and assign vendors to specific items. Your orders are ready to go, saving you time in double data entry and avoiding the hassles of running out of critical inventory.
Recipes (REC) (only available for Janam) - Download your recipes from ChefTec to your Janam to take them wherever you go. Display recipes or write new recipes on the move! You can enter new recipes into the Janam Handheld computer regardless of where you are and then simply upload them into ChefTec on the desktop.
Note: If you already own a Tablet PC (running Windows OS) or a Janam you may purchase each module separately for $495.00.
Do you already own a Janam?

Do you want to see what ChefTec Mobile Solutions looks like? Download the ChefTec.prc from our Web site and take a look at the future!

Note 1: This is not an installation and is meant for users knowledgeable about loading software onto your Janam.

Note 2: This is for viewing only. You will need to purchase the ChefTec Mobile Solutions software to be able to HotSync data to the desktop.
To order, simply call us toll free at 1-800-447-1466 (or dial 303-447-3334).




[ Home | Catalog | Order ]
---
Culinary Software Services, Inc. • 1900 Folsom Street • Suite 210 • Boulder, CO 80302 USA •(303) 447-3334
Copyright © 1995-2013 by Culinary Software Services, Inc. All rights reserved.