ChefTec Mobile Solutions® Software and Hardware
for Tablet and Handheld Computers
ChefTec Mobile Solutions can be used with CorTec and ChefTec. Each package includes a Tablet with bar code scanner and the award-winning ChefTec Mobile Solutions modular software.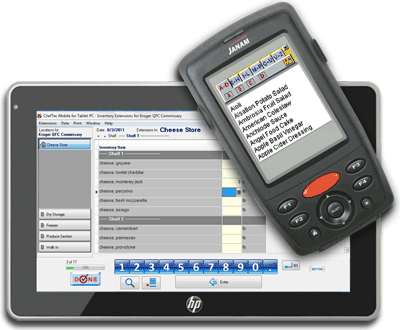 The Mobile modules are:
Physical Inventory Taking (PIT) - Every month it's the same story: end of the month inventory takes up too much of your time. If you are doing inventory the old fashioned way you are spending hours with pencil, paper and calculator, trying to keep on top of your costs.

If you're already using ChefTec, you're on the right track with the most powerful, easiest-to-use foodservice software on the market. With ChefTec you're able to organize your inventory in shelf order, making it easy to do the physical counts. But even if you are enjoying the power and convenience of ChefTec, when it comes to taking inventory you want an easier way.

Do Your Physical Inventory Without Paper and Pencil!

The Physical Inventory Taking module will give you an easier, faster, and more efficient way to enter physical inventory counts. Rather than having to print out worksheets, write your inventory counts, and then manually enter the data into ChefTec, the customized Mobile Solutions application allows you to enter your inventory counts directly into the Tablet. With the Tablet using a WiFi connection (required) your counts are entered into ChefTec real-time.

Requisitioning (REQ) - Requisition produced foods or raw ingredients from your commissary or central purchasing.

Ordering (ORD) - Organize orders on the fly! Enter orders into the Tablet and create a master order, regardless of vendor on the desktop. Then simply assign vendors in your desktop ChefTec "Order" and your orders are ready to go. This saves you time in double data entry and avoids the hassles of running out of critical inventory.

Recipes (REC) (currently unavailable) - Download your recipes from ChefTec to your Tablet to take them wherever you go. Display recipes or write new recipes on the move! You can enter new recipes into the Tablet handheld regardless of where you are and then simply upload them into ChefTec on the desktop when you are within WiFi range.
Note: If you already own a Tablet PC (running Windows 10 or Windows 8.x OS) you may purchase each module separately for $495.00.
To order, simply call us toll free at 1-800-447-1466 (or dial 303-447-3334).




[ Home | Catalog | Order ]
---
Culinary Software Services, Inc. • 2930 Center Green Court • Boulder, CO 80301 USA •(303) 447-3334
Copyright © 1995-2015 by Culinary Software Services, Inc. All rights reserved.