ChefTec Software™ - $595.00
(No network versions available)

Whether you're a chef, restaurant owner, caterer, multi-unit manager, or other foodservice professional, ChefTec Software helps you stay on top of your business. Operations large and small, throughout the U.S., throughout the world, have improved their profits with the power of our software solutions. Depending on your specific needs, choose the product that's right for you: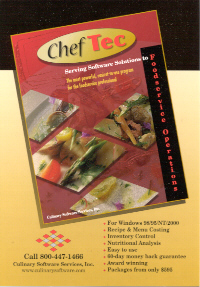 Not Sure if ChefTec Plus is for You?
ChefTec: For chefs and foodservice owner/operators needing recipe & menu costing, inventory control, and purchasing & ordering at a price all foodservice operations can afford.


ChefTec Plus: Our flagship product providing foodservice operators additional tools for monitoring costs and tracking inventory. ChefTec Plus offers all of the basic functionality provided in ChefTec plus perpetual inventory, sales analysis, theoretical inventory reports, and multiple profit centers.


ChefTec Ultra: Meets the needs of complex operations such as large hotels and conference centers with individual profit centers. Includes the Production Management Module, the HACCP Information Module, as well as the ability to move recipes between profit centers.


Designed by the professionals at Culinary Software Services, the family of ChefTec Software products allows you to decrease your spending while increasing your profits. Each is backed by 60 days of FREE technical support and comprehensive training for you and your staff.
Save 3-8% On Your Food Costs With ChefTec


...it saved us over $600 in overcharges from suppliers...I cannot say enough good things about your program, your support, your organization!

Robb Saye, Chef/Partner
Howling Cow Cafe, Santa Cruz, CA

What other professionals have said...

Flexible and easy-to-use, ChefTec puts power in your purchasing. Access information instantly, with the program that:
Saves you money - Inventory control helps you track fluctuating food costs and compare vendor prices - at the simple touch of a button.


Lets you do more in less time - Analyze recipe and menu costs, instantly, by portion or yield.


Generates orders automatically based on templates or pars (or shopping lists with ChefTec Plus) - ChefTec's purchasing & ordering features help you quickly convert orders into invoices and modify for changes on receipt of goods.


Calculates nutritional values for your recipes and menu items. You can also obtain the appropriate information needed to meet both health requirements and the demands of your health-conscious customers.


Here's What You Can do With ChefTec!
Culinary Software Services products are rated #1 in functionality and customer service. A proven product at an affordable price - with ChefTec it's that simple!
Recipe & Menu Costing
Inventory Control
Purchasing & Ordering
Nutritional Analysis
Order Your Copy of ChefTec Today - 100% Satisfaction Money-Back Guarantee
Discover the foodservice tool that makes your job easier and quickly pays for itself, At only $595, ChefTec comes with a 60-day money-back guarantee so it's absolutely risk free. You have nothing to lose.
ChefTec is the one utensil your professional kitchen needs to run smoothly, efficiently and cost-effectively. Order your copy online today or call toll free at 1-800-447-1466. In Colorado, call 303-447-3334.
To order, simply complete the Online Order Form.
Or, call us toll free at 1-800-447-1466 (or dial 303-447-3334).




[ Home | Catalog | Order ]
---
Culinary Software Services, Inc. • 2930 Center Green Court • Boulder, CO 80301 USA •(303) 447-3334
Copyright © 1995-2016 by Culinary Software Services, Inc. All rights reserved.