ChefTec Plus™ - $995.00
(Network versions: up to 3 users - $2985; additional users - quote)

A stylish marriage of performance and increased functionality, ChefTec Plus is perfect for today's business-focused foodservice professional. ChefTec Plus has all the power of ChefTec - recipe & menu costing, inventory control, purchasing and ordering - and more. Depending on your specific needs, choose the product that's right for you. Flexible and easy-to-use, it's the foodservice software program that: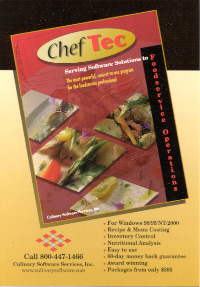 Saves you money - Generating reports based on orders, inventory on hand and sales, the Theoretical Inventory Report lets you track down usage problems or even theft.


Simplifies your ordering procedures - a shopping list is automatically created outlining exactly what you need to buy after you enter your recipes and their ingredients. A great tool for caterers.


Delivers quick bid update - Update all your vendor bids in one easy screen.


Keeps your data secure - Password capability lets you give various users access to specific areas of the software as you see fit.


Not Sure if ChefTec Plus is for You?
ChefTec: For chefs and foodservice owner/operators needing recipe & menu costing, inventory control, and purchasing & ordering at a price all foodservice operations can afford.


ChefTec Plus: Our flagship product providing foodservice operators additional tools for monitoring costs and tracking inventory. ChefTec Plus offers all of the basic functionality provided in ChefTec plus perpetual inventory, sales analysis, theoretical inventory reports, and multiple profit centers.


ChefTec Ultra: Meets the needs of complex operations such as large hotels and conference centers with individual profit centers. Includes the Production Management Module, the HACCP Information Module, as well as the ability to move recipes between profit centers.

Designed by the professionals at Culinary Software Services, the family of ChefTec Software products allows you to decrease your spending while increasing your profits. Each is backed by 60 days of FREE technical support and comprehensive training for you and your staff.
ChefTec Plus BUYS You More Time for Running Your Operation!


...easy enough to use to meet the pace of a frequently changing menu. It's fast and it's accurate.

Ray Berman, Executive Chef
Larimer Group, Denver, CO

What other professionals have said...

Here's What You Can do With ChefTec Plus!
Culinary Software Services products are rated #1 in functionality and customer service. A proven product at an affordable price - with ChefTec Plus it's that simple!
Recipe & Menu Costing
Store, scale, and size an unlimited number of recipes.
Instantly analyze recipe and menu costs by portion or yield.
Update prices, change ingredients in every recipe, with the touch of a button.
Cost an entire function or catering job in minutes. Generate accurate catering bids.
Add videos for preparation and training.
Add pictures of plate turnout, or plate layout, for consistency.
Inventory Control
Track rising food costs automatically.
Enter Invoices quickly using the "auto-populate" feature.
Use a Personal Digital Assistant (PDA) for inventory taking.
Automatically track activity based on purchases and sales.
Calculate inventory on-hand for multiple locations.
Compare theoretical and actual usage and identify problem areas.
Calculate overall percentage food cost.
Preloaded database of over 1,900 ingredients with unlimited capacity for additional inventory items.
Lists of ingredients in different languages (such as, Spanish, French, and German) are available with unlimited capacity for adding additional ingredients.
Sales
Track sales by day or period.
Rank sales by contribution to profit or number sold.
Interface for Point Of Sale (POS) as an add-on.
Purchasing & Ordering
Order based on lowest price/lowest bid.
Generate orders for multi-vendors or single vendor.
Use a Personal Digital Assistant (PDA) for ordering.
Convert orders into invoices instantaneously and modify for changes on receipt of goods.
Generate customized reports on purchases, price variances, bids, and credits.
Ability to analyze by inventory category, account category, profit center, location, etc.
Instant flag on price increases and decreases.
Compares vendor bids and actual purchases between vendors.
Nutritional Analysis
Get a quick and accurate analysis of nutritional values for commonly used ingredients. Add your own specialty items.
Calculate nutritional values for your recipes and menu items.
See at a glance which menu items are low fat, low calorie, etc.
Print a "Nutritional Facts" label.
Order Your Copy of ChefTec Plus Today - 100% Satisfaction Money-Back Guarantee
Discover the foodservice tool that makes your job easier and quickly pays for itself, At only $995, ChefTec Plus comes with a 60-day money-back guarantee, so it's absolutely risk free. You have nothing to lose.
Whether yours is a small, mid-size, or large operation, ChefTec Plus is the one utensil your professional kitchen needs to continually run smoothly, efficiently, and cost-effectively. Order your copy online today or call toll free at 1-800-447-1466. In Colorado, call 303-447-3334.
To order, simply complete the Online Order Form.
Or, call us toll free at 1-800-447-1466 (or dial 303-447-3334).




[ Home | Catalog | Order ]
---
Culinary Software Services, Inc. • 2930 Center Green Court • Boulder, CO 80301 USA •(303) 447-3334
Copyright © 1995-2016 by Culinary Software Services, Inc. All rights reserved.